Robin's Nest - Family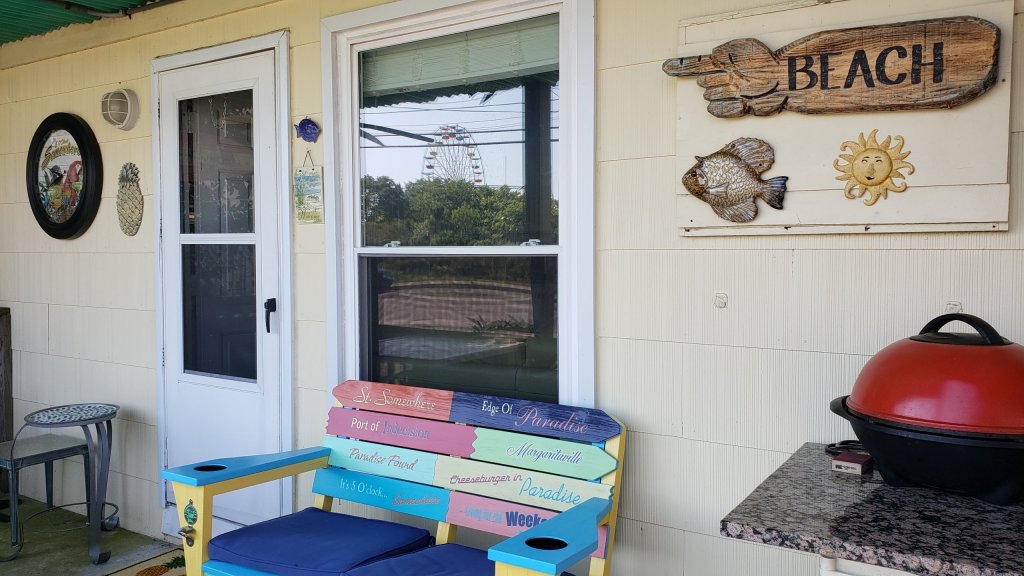 We purchase Robins Nest in April 2004. Bob and I keep the 2 bottom apartment at Robin's Nest. We are a Sunday to Sunday weekly family rentals from May through October. We offer mini weeks when available, with all mini weeks starting or stopping on a Sunday. We are dog friendly with fee. We have pergo flooring throughout for easy clean up and maintance. Robins Nest floor plan and set ups are identical and offer a different beachy flare in each unit. Our Loyal Customers have seen our renovations and upgrades throughout the past 18 years. Be sure you are viewing our updated website to see current photos, since we are constantly making upgrades and changes. Our 2 family rentals buildings (Robins Nest & The Emerald) are beside each other at 317 & 319 Robin Drive, Ocean City, Maryland 21842. In total, we have 8 units, and 6 are family rentals between both properties.
Robin's Nest 2 - Upper left - 2 bedroom (1 queen & 2 double beds) (Central A/C), WiFi, W/D, Full Kitchen & living room
Robin's Nest 4 - Upper right - 2 bedroom (1 queen & 2 double beds) (Central A/C), WiFi, W/D, Full kitchen & Living room
Family rates: 2 adults and up to 4 children 13 yrs and under or Groups/family of 4 adults at family rates. An additional fee of $25 nightly for the 5th and 6th adult.
Each apartment includes two separate bedrooms: one bathroom with shower tub combo, a combined kitchen/living room area equipped with a flat screen television, cable/streaming, WIFI, washer and dryer, multiple sofas/loveseat. Kitchen's include a full size refridgerator, gas range, sm breakfast table & bar seating, microwave, coffee pot, toaster, cookware, utensils, cups, plates, and silverware. Outside shower is to the left side of Robins Nest. Each apartment has its own porch or deck with outside seating for 6 adults.
To keep our family vacations affordable, we ask guests to bring their own bed sheets (1 queen & 2 double beds) and bath and beach towels. We start you off with a roll or 2 of toilet paper and a roll of paper towels in the kitchen. All apartment have liquid hand soaps, dish soap and cleaning items and supplies. Additional blankets, bed quilts, bed pillows with pillow protectors, mattress protectors on all beds. Find extra sheets and blankets to protect the furniture from dog dander and hair in each apartment.
Our Pricing: (WE DO NOT CHARGE ANY PROCESSING OR MANAGEMENT FEES)
​May 1st thru June 15st
Sunday to Sunday - $1398.00 to $1478.00 (includes taxes)
or $150 to $250 a night (3 night minimum)
June 15th thru September 15th st
Sunday to Sunday - $1548.00 (includes taxes)

or Weekend Fri/Sat $ 750.00. Mini weeks: 3 nights $ 1100.00, 4 nights $1300.00, 5 nights $ 1400.00

ALL Mini Weeks must Start or Stop on a Sunday, so they do not affect 2 weekly rentals.
September 15st thru October 31st
Sunday to Sunday - $ 1448.00 (includes taxes)
or $200/$250 a night (3 night minimum)
A down payment of $200 is required to reserve, with balance of monies due 30 days prior to arrival. Younger groups (ages 21 to 25 yrs) are required a refundable security deposit of $ 100.00 each.
*Prices are subject to change and are listed as a guideline
NO ADDITIONAL PROCESSING FEES or MANAGEMENT FEES/CLEANING FEES. In exchange for NOT collecting additional monies from our guests, we ask that all guests respect our property and to tidy and clean up the apartment upon departure. We have a team (usually Dorie & family) who does a second wipe down of each apartment between rentals. We view your respect of our properties as "priceless".
Dog Fees
$10 to $40 per day
Pricing is dependent on breed and weight